Tire Care Tips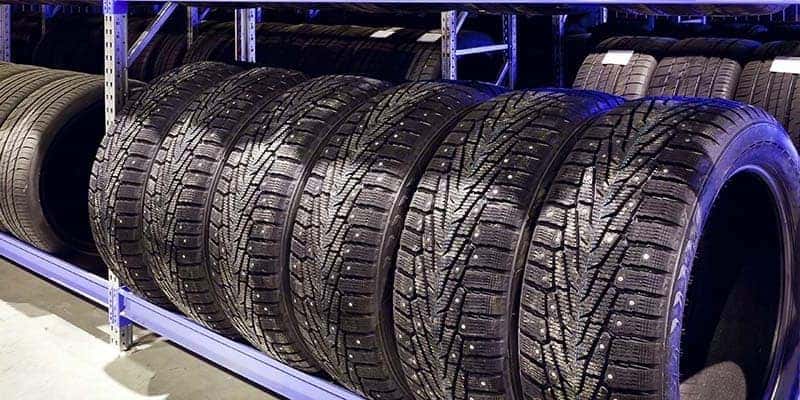 Tire care is crucial to maintaining the overall health of your Honda model while driving on the Burlington roads. Follow a few simple tips from the Honda North service center!
Q: How do I check my tire pressure?
Is your tire pressure light on? Driving with under-inflated tires can cause major problems for your vehicle. On the performance end, you will have a hard time turning and braking with optimal precision, and your fuel economy will decrease as well. On top of all that, underinflated tires can cause excessive friction, causing your tires to wear down more quickly than they should and making them go out much sooner than they would otherwise. On the sidewall of your tires, you'll find their recommended PSI (usually between 30 and 35). Stop at a gas station with an air pump, and fill up the tires to the recommended air pressure. If you're uncomfortable doing this on your own, the Honda North service team will take care of your tire pressure check and inflate your tires for you the next time you bring your vehicle in for an oil change or other routine service.
Q: How do I check my tire tread?
Running on bald or low-tread tires is dangerous. In addition to the fact that your vehicle isn't as responsive as it should be in terms of steering or braking, you're also at risk of blowing a tire, which puts not only you but those around you at serious risk. Luckily, checking your tire tread is pretty simple. While a tread-depth gauge is the ideal method of measuring tire tread, the old-fashioned "penny test" still works well. Here's all you do:
Turn the penny so Lincoln's head is upside down.
With Lincoln's head now pointing into the tire, insert the penny between two treads.
If you can still see the top of Lincoln's head, it means your tire tread is too low, and it's likely time to get new tires.
Q: Why is it important to rotate my tires?
Tire rotations are important to overall tire maintenance. As you drive your vehicle, your driving habits tend to wear down the tread on certain tires more quickly than others. When you get your tires rotated, this helps ensure that the tires wear down more evenly over time, which both improves the performance of your car and helps extend the life of the tires. Tires can be a bit pricey, so in order to get as many miles out of them as possible, it's important to take care of them. The easiest way to do that is to get tire rotations every several thousand miles or at the very least every other time you get an oil change. Since this is a procedure that involves special equipment, you'll probably want to schedule an appointment to have this done when the time comes.
Q: How do I change a flat tire?
Here's what you need to do:
First make sure you find a safe spot off of the road that doesn't put you at risk. Put your hazard lights on, and make sure the parking brake is activated.
Get out of the car, and apply the wheel wedges, remove the hubcap, and loosen the lug nuts.
Place the jack under the car, and raise the vehicle.
At this point, you'll need to unscrew the lug nuts so you can remove the flat tire.
From here, mount the spare tire and tighten the lug nuts.
Lower the vehicle partially and re-tighten the lug nuts before lowering the vehicle all the way.
Replace the hubcap, put all your equipment away, and double check that the spare tire's pressure is correct.
Afterward, you'll want to get your vehicle to a maintenance shop to get a new tire put on as soon as possible. Important: Spare tires are only intended to be a temporary fix, and they're not to be used when driving at high speeds!
Get Your Vehicle Serviced in Lynn Today
While many of the procedures mentioned above can be handled by DIY enthusiasts with a bit of automotive know-how and ambition, most drivers will want to rely on experts who have the certifications, equipment, and expertise to ensure that job is done right. Schedule your next tire service for your vehicle here at Honda North! While you're at it, make sure you check out our current service specials in order to take advantage of any deals we're currently running around Burlington and Lawrence. Our dealership is located at 382 Newbury St in Danvers, MA, so stop on in or contact us today at . Be sure to check out our recommended maintenance schedule so you can be sure you're keeping your car up-to-date, and let us know when you are getting ready to trade in your car for an upgrade!
Recent News From Honda North
Honda has solidified its reputation for delivering excellent fuel saving models for your Lynn travels, and they aim to go even further with the anticipated new 2024 Honda Prologue EV. As a new all-electric Honda SUV, the Prolouge enables you elevate your mpg performance and enjoy an extra boost to transform your daily commute….

If you're in need of an accessible Honda SUV to get around Lynn and beyond with ease, then you're sure to find the right match with any of the new 2023 Honda HR-V trim levels. This lineup of Honda SUVs features competitive pricing, accommodating features, excellent performance specs, and so much more to transform…

Did you know that there are eight exterior 2022 Honda CR-V colors to choose from? The variety of options in the new Honda CR-V colors ensures that this SUV is sure to turn heads in any Lynn neighborhood. The new CR-V colors for the interior are just as attractive. Let's take a closer look….