How Long Can You Drive on a Spare Tire?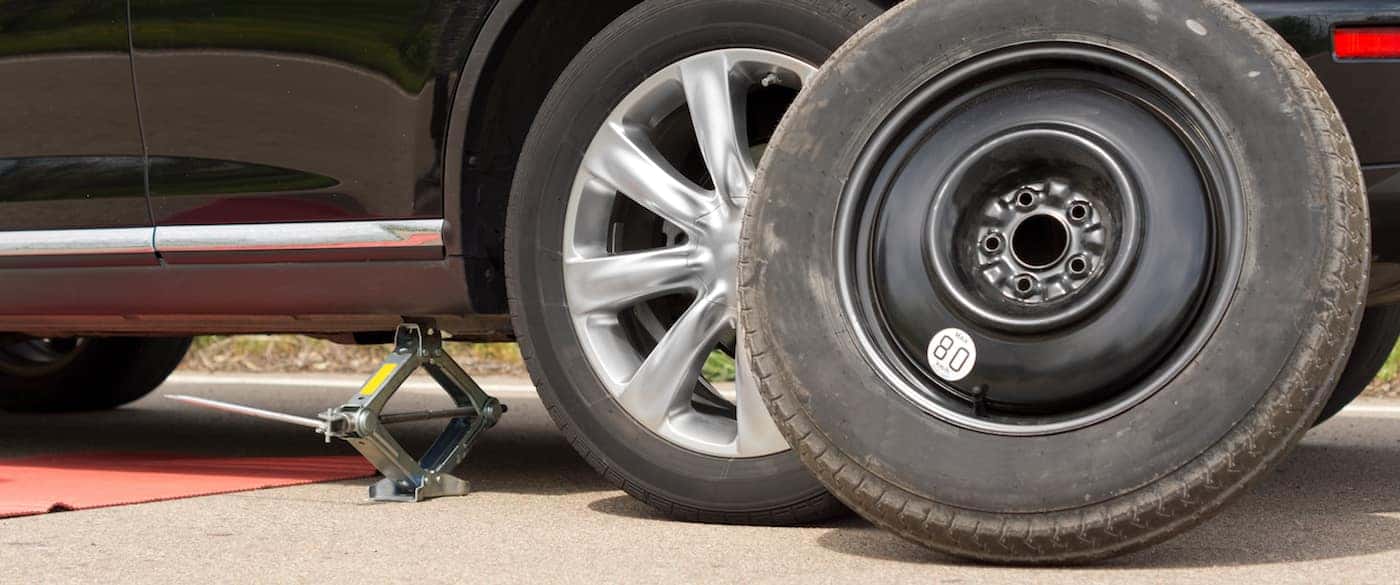 Nothing can mess up your Lynn drive like getting a flat tire, especially when you've got something important coming up. However, if you've got a spare tire, things can get a little easier for you. How long can you drive on a spare tire? You're going to want to get your car serviced as soon as possible if you're driving on a spare tire as you can only get a limited number of miles out of your spare. Honda North has your guide to how long you can drive on a spare as well as how to schedule a test drive.
The "Donut" Spare
In many cases, Burlington drivers will find that their spare tire is a lot smaller than their normal tire. This is called a space-saver or "donut" spare tire. You'll want to know that the donut spare is not to be used as a normal tire. In fact, it's got these restrictions on use that you should follow to avoid damaging your car's internals:
Don't drive over 50 mph
Don't drive on this spare for more than 70 miles
You'll get less traction with this type of spare than a full-size spare
The Full-Size Spare
The question of "how long can I drive on a spare?" becomes a little different when talking about a full-size spare, which is the same size as a normal car tire. This tire, while able to drive a longer distance than a donut spare and with better traction, is brand new and won't have as much wear on the treads as your other tires. You'll tend to find these spares on trucks and SUVs because of the greater distances those cars tend to cover.
The Run-Flat Tire
A run-flat tire changes the calculus of "how long can you drive on a spare tire?" These tires are able to run for a longer period of time when they've been punctured. However, if you find that your tire pressure is decreasing after your run-flat tire has been punctured, pull over, check your tires, then bring them into a Honda dealership or mechanic to get them fixed.
Honda North Knows Your Honda
If you've got a Honda and want to take the most care of it you can, bring it into Honda North because we've got everywhere from Lynn to Lawrence covered with our excellent commitment to service. Learn more about how your vehicle operates such as if your car AC uses gas and many other service tips and tricks. We also have genuine OEM parts that you're guaranteed to get every single time. Contact us to find out more!
More From Honda North
Along with great fuel savings, a Honda sedan should provide a host of capabilities for your Lynn and Burlington travels, and that's what you'll find and more with the new 2022 Honda Civic interior features. Sporting expanded interior space to ensure plenty of seating and storage, as well as advanced convenience and technology, this Honda…

If you're looking to get behind the wheel of a new sedan, then you'll love what you'll find in the new 2022 Honda Accord interior delivers to your Lynn commute. This impressive iteration of the brand's top sedan provides enhanced technology and convenience along with ample cabin space you need to get more done around…

If you're in need of a trusted sedan to improve your Lynn and Burlington commute, then you'll find a range of great models all in one lineup with the new 2022 Honda Accord trim levels. Delivering seven configurations that feature Honda's signature fuel savings along with a packed interior with plenty of connectivity, comfort,…