How Do You Use and Customize the Honda Clarity Driver Information Interface?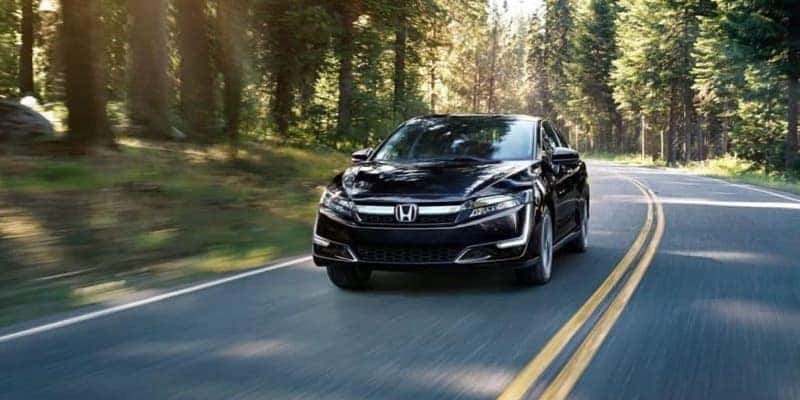 Not only is the Honda Clarity an excellent option when it comes to hybrid vehicles in Lynn, but it also offers advanced technology that keeps you safer and better connected on the Newburyport or Ipswich roads. The customizable driver information interface can be organized any way you'd like, and you can access it without taking your hands off the wheel.
Video Transcription
The steering-wheel-mounted controls let drivers interact with a variety of features without taking their hands off the wheel.
On the left side of the steering wheel, press the display information button, then use the left and right arrows to find the content desired in the driver information interface, which is located in the instrument panel.
Press the enter button to see more detailed information on a particular feature. We'll use audio as an example. Within audio, use the up/down arrows to find the audio source you want. Use the left/right buttons to move among stations or tracks, and adjust the volume by using the plus and minus on the volume bar.
You can edit, add, or delete content on the driver information interface, or DII, using the display audio touchscreen. Begin by touching settings, then system. Next, select configuration of the instrument panel.
To change the order of the icons on the DII, select edit order. Now select the icon you want to move, then use the right or left arrow repeatedly to move the icon to your desired position. Select ok. The screen will then return to the configuration of instrument panel screen.
To add icons to the DII, select add. Then select the icon you want to add. You'll see a plus mark (+) in the upper righthand corner of the selected icon. Select ok. The same process works for deleting an icon from the driver information interface. Select delete. Next, select any icon you want to that has an X next to it, then select ok.
You now know how to customize the driver information interface just the way you like it.
Learn More about the Honda Clarity Features
To learn more about the customizable driver information interface of the Honda Clarity, or other features like performance, contact us or schedule a test drive at Honda North in Danvers.
More from Honda North
If you're looking for a trusted minivan that can keep you moving around Lynn and deliver plenty of strength for your next family trip, then you'll appreciate the impressive 2022 Honda Odyssey towing capacity. With up to 3,500 pounds of towing power backed by a range of top specs and reliable safety features, see how…

If you're looking for a rugged pickup that's suited for any job around Lynn, then you'll love the impressive capabilities of the 2021 Honda Ridgeline towing capacity. Displaying up to 5,000 pounds of towing strength along with Honda's trusted engineering, as well as cutting-edge towing and safety features, this Honda truck checks every box. Check…

If you're looking for an accessible sedan to keep you moving on Lynn roads, then you'll love the reliable 2021Honda Accord interior design and features. With a slew of advanced comfort, tech, and safety features, along with improved cabin space, this Honda sedan has everything your family needs. Discover all that's offered in the new…